Heater setting switches included.
The heated option has the ability to store heat and facilitate an immediate release of warm air through the jets to speed up the hand drying process. Air temperature is at a comfortable 35 degrees Celsius.
Now the heater can be switched on or off according to use preferences. These settings are located inside the main unit and can be set at the time of installation.
User friendly design for all
Development included studying a hand insertion angle comfortable and easy to use for a majority of people. As a result, the front panel is gently slanted outward, creating a ergonomic hand insertion angle of approximately 15° that allow users to stand comfortably and naturally when inserting hands in the Jet Towel™ while open sides allow for easy hand access.
The volumetric area of the hand-drying section has been increased approx. 1.4 times (from 6.8L from 5L of our previous model*). The more spacious touch-free design increases the hygienic value of the unit and ensures imrpoved user ease for people with larger hands.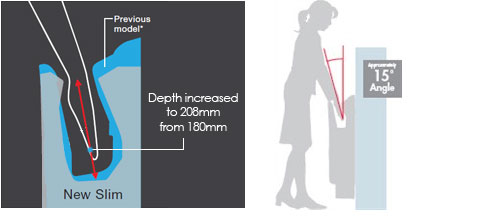 Better quality means longer service life.
The lifespan of the Mitsubishi Electric Jet Towel™ is significantly better than that of competitive products. The Mitsubishi Electric Jet Towel™ is equipped with a state-of-the-art DC brushless motor.
The reduction of brush-motor wear and tear paves the way to truly efficient and stable operation over the long run. This results in a product life of over 3600 hours, compared to a product life of 1000 hours for other competitive high-speed hand dryers.
The Mitsubishi Electric Jet Towel™ is crafted for seven years of service at 1,000 uses daily. This is at least two years longer than any other high-speed hand dryer in the world.