Antimicrobial Technology
All parts of the Mitsubishi Electric Jet Towel™ that come into contact with water are coated with an antibacterial coating. The antibacterial coating utilizes Silver Ion Technology. When silver ions come into contact with the cell walls of common bacteria, they interfere with protein synthesis inhibiting growth and multiplication. The effectiveness of this anti-bacterial coating has been extensively tested and proven by a leading independent German Hygiene Institute.
For more independent scientific studies concerning hygiene and the
Jet Towel™ high-speed hand dryer, please click here.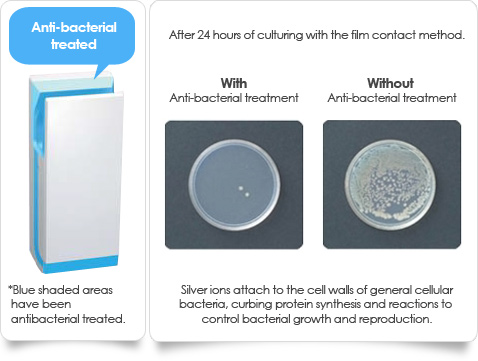 Alcohol-resistant Resin
An alcohol-resistant resin is used, enabling *alcohol-based products to be used for cleaning the hand drying section, drain tank and water drainage duct where sanitary conditions are a matter of concern. The open-side design, which allows easy hand access from either side, ensures quick and thorough cleaning of the hand-drying section as well.

*Alcohol-based means a disinfectant containing 83% ethanol or less.